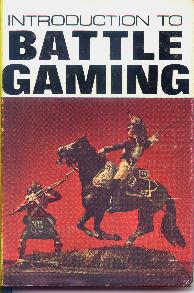 I've just read that Terry Wise, another of the old guard, has passed on...
I think I've had a copy of his book "Introduction to Battlegaming" in my possession since I bought it in one of the second hand bookshops in Canterbury when I was at university back in '82, but I remember religiously borrowing it from the library every month as a youngster at least ten years before that....
...of all the wargaming books that I used to read from the library in those days (and heaven knows there weren't many wargaming books) this, and Featherstone's "Wargames" must have been on almost permanent loan to me!
The original announcement is here:
http://theminiaturespage.com/plus/msg.mv?id=149106
The Vintage Wargaming blog is planning to run some of his classic articles - one to watch:
http://vintagewargaming.blogspot.com/2010/08/terry-wise.html
...I'll hoist a beer in his memory, and remember the pleasure he gave me from his book, in the garage tonight - sad news...