...always hot on the heels of
Yapton [clicky]
, this weekend just gone was Southampton Beer Festival... this is a tried and trusted festival for attendance with the current Mrs Steve the Wargamer, plus Steve the Wargamers sister, and on this memorable occasion bro in law as well (he's not always available due to job demands)....
Yet another brilliant festival, and many inroads were made into the content on their LocAle (get it, get it..??
) stand specialising in brewers from Hampshire.. lovely glass design this year as well - this shamelessly copied from someone's Twitter feed....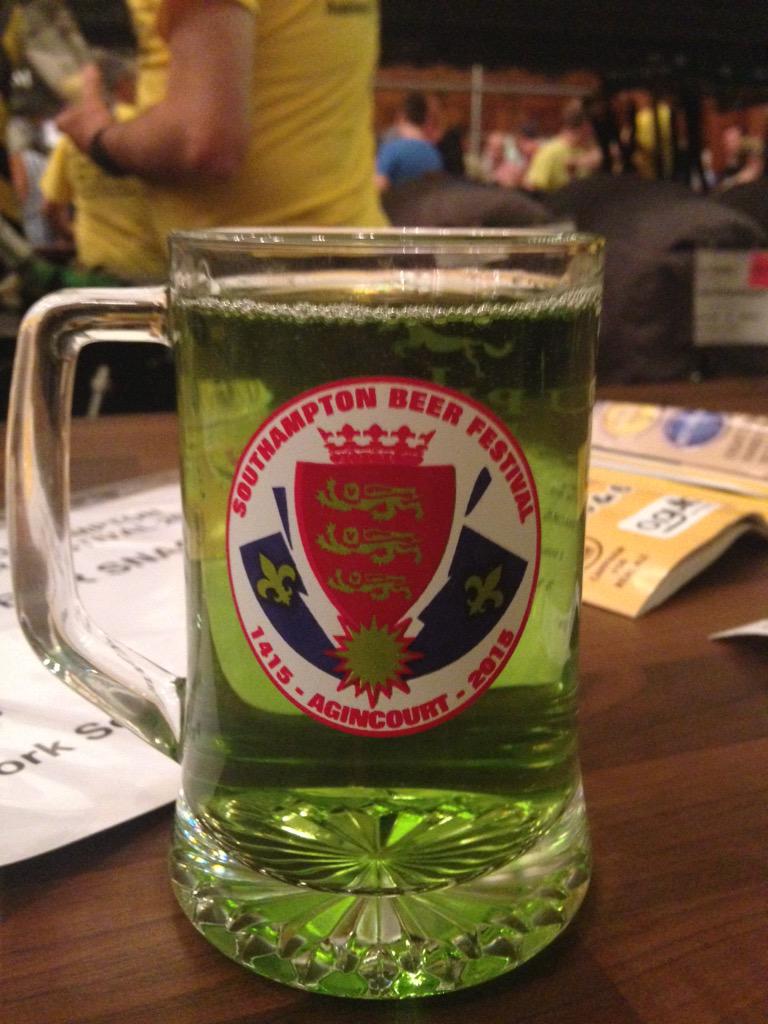 ...the beer by the way is called
"Sign of Spring" [clicky]
and is indeed green - just food colouring..
Brewery
Beer (click for more info)
ABV
Notes (from brewery website)
What I can remember...
Dark Star
Summer Solstice
4.2%
"Clean tasting and a bright golden colour. This beer is bursting with summer flavours, perfect for the Summer break."
I'm a Dark Star fan - I don't think I've had a beer from them I haven't liked and their Hop Head is one of my top 10 beers of all time so when I saw this on the menu it was a no brainer for first half of the day - not tried it before, delighted to say it met all expectations and the brewers notes sum it up a treat...
Hop Back
Hop Medley
3.9%
"

A light blonde ale with English (Pioneer), Slovenian (Styrian Golding) and American (Chinook) hops giving a heady combination of citrusy flavours and a lightly spicy finish. A real thirst-quencher."

The same can equally be said of Hop Back, who (I think) single handedly kick started an entire beer style when they first bought out "Summer Lightning" (definitely top 5) - this one was their May special, and again was new to me, but I can confirm was also delicious... my scribblings on the day advise "clean/sharp, slight sulphur" I remember it being immensely bitter
Hop Back
Taiphoon
4.2%
"A fantastic pale gold beer with hints of Lemongrass and coriander".
Straight on to their next offering then, and at this point in time I thought I'd died and gone to Heaven, three perfect halves in the first three pints... at which point sis broke open the pork pies, and that confirmed I had definitely passed Taiphoon's not readily available on draught so although I've had it before (on some memorable trips to their Tap in Salisbury) it was good to try it again.. perfect accompaniment to curry/Chinese this one by the way....
Franklins
Franklins Pale
4%
"Britain meets America in this flavour packed Pale ale. We have used our favourite ingredients from both countries to produce a hop forward pale ale bursting with flavour and aroma."
'Hop forward' indeed... ok, so a little over the top description but this was a lovely ale.. my notes (almost readable) say "tangy/bitter.. v. nice"
First Chop
FCB
3.6%
"Pale session bitter hopped with Cascade and Green Bullett hops."
Hmm... bit thick and syrupy this one, I thought, despite the moderate strength..
Bowman
Agincourt
5%
"Dry & refreshing, brewed with lager malt and lager hops"
I'm a wargamer for goodness sake - why would I not want to try a beer brewed to celebrate the anniversary of the battle? As it happens though, the beer was nowhere near as spectacular as the outcome of the battle.... t'was indeed lager'y in flavour (too sweet for me)
Oakleaf
Whole Hearted
4.7%
"

The use of Cascade hops gives this golden ale powerful floral and tropical fruit flavours, and a delicate bitterness. This beer will surprise with every mouthful."

This was a cheat as it is a regular at my local pub, but I can't resist the stuff so had to have a half, if only to try it from gravity dispense as opposed to hand pump... very disappointing I have to say - I thought it was in poor condition, quite flat and lifeless... I'll have to have a pint (or two) tonight to make sure it was just a one off....
Franklins
Citra IPA
5.5%
"Single hopped IPA for serious beer lovers. As the name suggests it is packed full of citurs (sic) flavours and aroma."
Back to scenes of previous perfect beer then for the next one... tut tut, poor spelling Franklins... quelle horeure, I thought I was going to be in for a treat but the tasting notes say "bit dull"...
First Chop
DOC
4.1%
"

An ultra pale 4.1% ale generously hopped with four varieties of New Zealand hops. All the big hoppy flavors you expect from New Zealand and a pleasant lingering bitterness"

My goodness - tried this because the bro in law was raving about it, and as time was pressing, and the session about to end I went with the flow - SO pleased I did, this was an absolute cracker - only 4'ish percent but huge hoppy citrus flavours... "lively zesty/citrus"... that'll be the beer of the festival then.....!